Unique Features & Top Quality:
Quik-Fire, SS Deluxe, Gas Barbeque Grill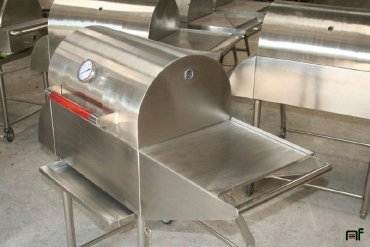 Our, SS Deluxe, Barbeque Grill, is a great choice for home use, and is one of our most popular home barbecue grills.
The, SS Deluxe, Barbeque Grill, is as much an, Oven, as it is a Barbecue.
Bake Pizza, Bread, Sausage Rolls, Lasagna, even Brownies.
Roast your favorite meats until the meat nearly falls of the bone. Take out of pan place on grill with your favorite bbq sauce for that yummy great bbq flavor.
We have designed this barbeque to be streamline and beautiful, however, the two side sparker burners can be relocated to the front, making it a three burner barbeque due to the additional fire box side to side length.
Add a Half Griddle/Hotplate, Quality Stainless Thermometer, and a Chicken Roasting holder, and you're off to having many happy days of barbeque, roasting, and baking.
Grill: Our stainless barbeque grills are the best handcrafted barbeque grills relative to quality & price to be found in Thailand. Some have said; best handcrafted quality in the world.
As a matter of pride, we produce high quality products. The proof of the pudding lies within Feedback's we get from our customers once they have received, and used their new 

Barbeque.
Please, check out our, Customer Feedback page, to see for yourself … thank you.

Pricing and Inclusions:
QUIK-FIRE – FACTORY DIRECT PRICING

SS Deluxe BBQ – 35,995 Baht
Personalized customer service at, QUIK-FIRE, will always be at hand.
Nationwide shipping…
All products are available from our factory in, Udon Thani, Thailand.

Shipping available throughout Thailand

Bangkok, Phuket, Pattaya, Rayong, Nakhon Ratchasima, Buriram, Chiang Mai, Chiang Rai, Samui, etc…