QUIK-FIRE, SS Grand Master Gas Barbecue-Grill

, world class exclusive, SS Grand Master Gas Barbecue-Grill is beautifully handcrafted to,  western quality standards.

Above the wide 90cm grill is a large double walled insulated OVEN top, for baking pizzas, roasting your favorites birds, meats, etc…
With five front mounted ignition sparker's the,

, SS Grand Master Custom Gas Barbecue Grill is a whopping 2 meters wide. With a Barbecuing area of, 90 x 50 cm.
Rotisserie: Attractive heavy duty handcrafted stanchions for mounting our 3/4″ stainless shaft and heavy duty Rotisserie motor rated up to 50 Kilos turning power.
Rotisserie legs of Lamb, Pork shoulders, Beef roast (joints), all at the same time. Rotisserie three 0r four Turkeys at the same time for the holidays.
Large Half Griddle/Hotplate, 45 x 50 cm. (100% stainless plate hotplate available upon request).
How about a large sausage/rib rack, for roasting succulent rack of Ribs, Sausages, etc…
Two Chicken, 'stainless beer cup', holders. We do not use Aluminum beer cans as most do, doesn't seem like a healthy thing way to go with paint burning off into meat, etc., etc…
People say our stainless beer cup method of roasting Chicken makes for the best tasting, most juicy, tender Chicken they ever had.
Fill the stainless cup 3/4 with beer, pre rub Chicken with Olive Oil, salt and pepper to taste, slide the open Chicken butt over the stainless holder and cup. Roast approx 1hr. 30min, skin will be crispy, meat juicy and tender. Food for the Gods.
This magnificent one of a kind world class, Gas Barbecue Grill, is handcrafted especially for the well healed person, Hotel, or Resort that desires the most beautiful, biggest, best BBQ/Oven Combo grill at in country factory direct pricing.
Personalized customer service at,

, will always be at hand.
Pricing and Inclusions:
QUIK-FIRE – FACTORY DIRECT PRICING

SS GRAND MASTER – 110,995 Baht

Price Includes:

Removable steel half Griddle/Hotplate. (45 x 50 cm)


Heavy Duty Rotisserie motor turning power to 40kg – 3/4″ solid stainless shaft & heavy stainless setup.

Quality Oven Thermometer

Large stainless sausage/rib rack holder

Two chicken beer can, (Stainless Cup) holders

Large lower locking cabinet

Easy lock 4″ ball bearing wheels, rolls as if on ice.

Additional Accessories:

'Stainless plate' large half Griddle/Hotplate –

6,495 Baht

Grade 304 stainless for near salt water applications is available upon request.
   Nationwide Shipping available:
All products are available from our factory in, Udon Thani, Thailand.

Shipping available throughout Thailand

Bangkok, Phuket, Pattaya, Rayong, Nakhon Ratchasima, Buriram, Chiang Mai, Chiang Rai.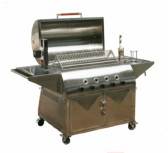 Quik-Fire Contact Form
We would love to hear from you! Please fill out this form and let us know what you need.