A Counter Top Gas Barbecue Grill with Class and Function: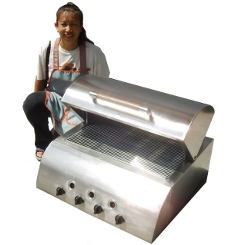 Streamline Beauty, Durability, and High Performance for your home, or commercial kitchen.
: We custom design and individually handcraft our gas/charcoal barbecue grills using quality materials to Western Quality Standards, paying strict attention to detail.
We offer stainless grades, 201 or 304, depending on your location, inland, or near salt water.

Tweak your new, SS Crown, counter top gas barbecue grill to accommodate your personal needs, and or, desires by ordering, 3, 4, 5, even 6 burners across the front?
That's what's great about having your manufacturer in-country run by people that care more about you than simply making a sale.
Our original designed rounded top when opened does not extend beyond back of bbq body.
This means you can fit your, SS Crown Gas Barbecue Grill, into a tighter walled back counter top space.
Building a new counter for your outdoor entertainment area?
Plan to have your construction crew cut an inset into your counter to set your new SS Crown in place, so bbq cooking surface will be even with counter top.
We'll provide the inset-specifications for your new, SS Crown Gas Barbecue Grill, whatever the size may be..
 Quik-Fire, Stainless Gas Barbecue Grills are the best handcrafted BBQ/Smoker Grills relative to quality & price to be found some have said; best in world.
Pricing and Inclusions:
3 Burner Counter Top – 35,995 Baht

4 Burner Counter Top – 39,995 Baht

Includes:

Regulator hose set, tested w/ unit to assure safe & correct firing.
Adjustable feet for leveling.

Personalized customer service at, QUIK-FIRE, will always be at hand.
QUIK-FIRE products are sold factory direct!
No costly retail shops, agents, credit card fees; anything that would add unnecessary costs to your purchase.
Think about that when considering the purchase of an imported Barbecue made somewhere north of, Thailand
No getting around it: In-country factory direct pricing of quality handcrafted stainless products = value for your money.
Nationwide Shipping:
Shipping available throughout, Thailand.

Bangkok, Phuket, Pattaya, Rayong, Nakhon Ratchasima, Buriram, Chiang Mai, Chiang Rai, Samui, etc.

Questions or comments please forward to us

Quik-Fire Contact Form
We would love to hear from you! Please fill out this form and let us know what you need.